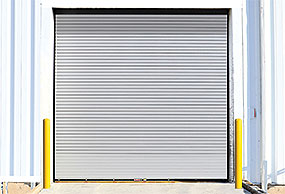 The Stormtite™ AP Model 627 is engineered to supply advanced performance in industrial and general commercial applications where thermal performance, climate control and security are primary concerns.
This door system presents the most advanced thermal performance values published by any major US manufacturer of insulated rolling steel doors, with an R-value of 10.9, U-value of 0.09 and a tested installed U-factor of 0.84. The superior construction of this rolling service door and the advanced design of the perimeter seals offer superior door protection against air leakage. The sound performance of the Stormtite™ AP Model 627 furnishes a through curtain Sound Transmission Class (STC) rating of 28 and installed system rating of 21.
The Stormtite™ AP door system's advanced performance answers the demand for more reliability, durability, security, flexibility and thermal efficiency.