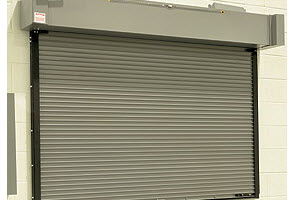 The Model 640 fire-rated counter door is ideal for applications including factories, schools, concessions, hospitals, cafeterias and retail settings. Standard labels available include a 3 hour UL Class A rating for masonry applications, or a 1-1/2 hour UL Class B label for non-masonry fire walls (3 hour for non-masonry is available upon request). These doors are designed to expand upward in a fire, allowing the guides to be installed flush with the sill. Their compact, box-like form also provides an attractive finished appearance that requires minimum side-room. The 640 model door has exposed components made of primed galvanized steel.
A 1-1/2 hour UL fire-rated countertop with fire-resistant core is an available option offered in a variety of popular decorative laminate finishes. A fusible link is mounted to automatically close the door in case of fire. Additional safety and protection features are available, including: Fire Sentinel® time-delay release device, FireLite® vision lites, smoke detectors, horns and strobes.
The 640 model fire-rated counter fire door is UL approved. Factory Mutual (FM) labels are available with the addition of an FM approved flame baffle option.