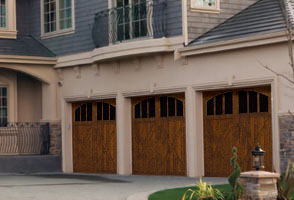 Step up to the elegance of wood. The Overhead Door Signature™ Carriage Collection doors combine the classic swing-open appearance and detailing of carriage house wood doors with the convenience of standard sectional garage doors. We combine our tried-and-true technical know-how with expert Amish craftsmanship to create a door that reflects handmade artistry yet is built to stand the test of time.
Signature Carriage Collection Brochure
Features
Detailing
Distinctive appearances and detailing of carriage house wood doors
Styles
Wide range of beautiful carriage house styles
Material
Constructed from the finest Cedar, Hemlock and Mahogany woods available
Quality
Amish craftsmanship
Hardware
Heavy-duty hardware with decorative options
Windows
Multiple window options
Insulation
Polystyrene insulation available for all series (R-value up to 4.75)
Options
Colors

Paint or Stain (560-paint only
, 570-paint or stain, 
580-paint or stain)
Insulation
Polystyrene insulation 
(560-standard,
 570-optional, 
580-standard)
Select Hardware
Further individualize your garage door with our distinctive decorative exterior handles and hinges.
Individualize with Windows
Windows are available with non-insulated glass or insulated glass for maximum energy efficiency, and a variety of trim designs.
| Model | Panel Style | Insulation | R-value | Warranty |
| --- | --- | --- | --- | --- |
| 570 BASE | | Polystyrene Optional | N/A | 1-year Limited |
| 570A | | Polystyrene Optional | N/A | 1-year Limited |
| 570B | | Polystyrene Optional | N/A | 1-year Limited |
| 570C | | Polystyrene Optional | N/A | 1-year Limited |
| 570D NRW | | Polystyrene Optional | N/A | 1-year Limited |
| 570D WIDE | | Polystyrene Optional | N/A | 1-year Limited |
| 571 NRW | | Polystyrene Optional | N/A | 1-year Limited |
| 571 WIDE | | Polystyrene Optional | N/A | 1-year Limited |
| 580 BASE | | Polystyrene | 4.75 | 1-year Limited |
| 580B | | Polystyrene | 4.75 | 1-year Limited |
| 580C | | Polystyrene | 4.75 | 1-year Limited |
| 580D | | Polystyrene | 4.75 | 1-year Limited |
| 580M | | Polystyrene | 4.75 | 1-year Limited |
| 580P | | Polystyrene | 4.75 | 1-year Limited |
| 580S | | Polystyrene | 4.75 | 1-year Limited |
| 581NRW | | Non-insulated | N/A | 1-year Limited |
| 581 WIDE | | Non-insulated | N/A | 1-year Limited |