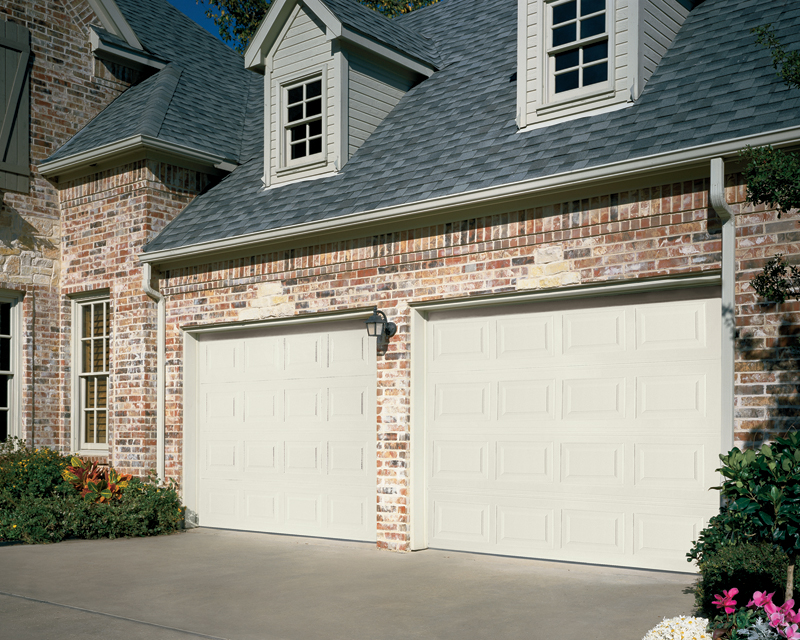 Traditional Steel garage doors deliver Overhead Door's legendary performance and durability at our most affordable price. These garage doors are available with classic raised panels or contemporary long panels. Two coats of baked-on polyester paint provide a low-maintenance finish that looks great, year after year.
Features
Embossed Wood-Grain Texture
Adds beauty, sophistication, and durability
Galvanized Steel Center Stiles
For maximum strength and minimal weight
Durable Finish
Hot-dipped galvanized steel with two coats of baked-on polyester paint
Bulb-Type Bottom
Weather seal guards against wind and rain while providing a cushion when closing
Warranty
Up to Lifetime limited. See series pages for details
Options
Panels: Feature simulated wood-grain embossment to enhance the appearance of your garage door. Choose from standard or long panel designs.
Colors: Doors are available in five standard colors or can be painted to match your home's decor. Contact your local Ribbon distributor for painting instructions.
Windows: Customize your garage door with a variety of window designs to enhance your garage door and home
Glass: A variety of glass options, including tempered glass, clear Lexan®, solar bronze, insulated glass (some series), as well as obscure glass and Bevelite® decorate acrylic lites.
Windload: Can be fitted to meet windload building requirements.
| Model | Insulation | R-Value | Warranty |
| --- | --- | --- | --- |
| 170 | Non-Insulated | N/A | 15 Year Limited |
| 171 | Non-Insulated | N/A | 15 Year Limited |
| 173 | Non-Insulated | N/A | Lifetime Limited |
| 174 | Non-Insulated | N/A | Lifetime Limited |
| 180 | Polystyrene Insulation | 7.8 | 20 Year Limited |
| 181 | Polystyrene Insulation | 7.8 | 20 Year Limited |
| 183 | Polystyrene Insulation | 7.8 | Lifetime Limited |
| 184 | Polystyrene Insulation | 7.8 | Lifetime Limited |
| 185 | Polystyrene Insulation | 7.4 | 20 Year Limited |
| 186 | Polystyrene Insulation | 7.4 | Lifetime Limited |
| 391 | Polystyrene Insulation | 9.8 | Lifetime Limited |
| 399 | Polystyrene Insulation | 9.8 | Lifetime Limited |