The Legacy® 850 garage door opener provides power, reliability and convenience with the choice of belt or chain drive. This durable 1/2 HPc* Power Plus motor operates most residential sectional garage doors weighing up to 500 lbs. The DC motor technology used in the design of this motor along with the C-channel rail deliver quiet operation.

DC motor technology
DC motor operates with variable speed for soft start and stop, providing smooth, quiet operation and less wear and tear on your garage door.
​​
CodeDodger® access security system
Each time the remote control is activated, a new acess code is selected from 4.3 billion possible combinations to help prevent piracy of the radio signal that opens your door.
​​
Easy programming
Quick, effortless limit setting for faster installation.
​​
Auto seek frequency range
The opener listens for both the 315 or 390 MHz frequency emitted by the remote or wireless keypad, allowing reliable operation even in areas with frequency interference.
​​
Self-diagnostic Safe-T-Beam® System
When objects pass through the infrared beam, the door automatically stops closing and then reverses.
​​
C-channel rail
Operator rail designed for strength; conceals rotating belt or chain for safety and better aesthetics.
​​
Light system
Illuminate your garage with built-in lighting positioned toward inside of garage. Compatible with most CFL and LED light bulbs.
​​
Automobile convenience features
Compatible with HomeLink® and Car2U® systems.
*HPc Power Plus designates that it exceeds Overhead Door's lifting force specification for 1/2 horsepower garage door openers.​​​

Included Accessories: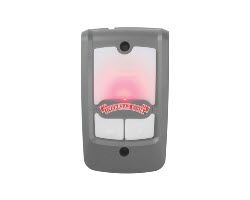 Additional Accessories: