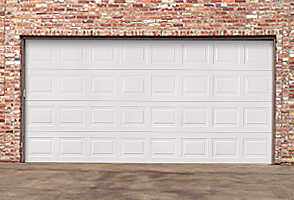 Our steel garage door model 170 features the strength of steel and a standard panel simulated wood grain embossment to enhance the appearance of your door. A 15-year limited warranty on these steel garage doors means it is built to last. A wide variety of window options are also available for these steel garage doors.

Warranty
15-year Limited
Embossed wood grain texture
Adds beauty, sophistication and durability
Galvanized steel center stiles
For maximum strength and weight
Durable Finish
Hot-dipped galvanized steel with two coats of baked-on polyester paint
Bulb-type bottom weather seal
Guards against wind and rain while providing cushion when closing


Standard Panel



Non-Insulated


Doors are available in five standard colors or can be painted to match your home's décor.
White


Almond


Desert Tan


Taupe


Brown


Standard Window Panels
Clear Short

Cascade 1

Madison 1

Sherwood 1

Stockford 1

Waterton 1

Williamsburg 1 (4 pc.)

Ashton 1

Cathedral 1

Ruston 1

Stockbridge 1
Stockton 1

Winston 1

Williamsburg 1 (8 pc.) Double Wide Doors Only

Long Window Panels
Clear Long

Cascade 2

Madison 2
Sherwood 2
Stockbridge 2

Stockton 8-Lite Arch

Wynbridge 2
Williamsburg 2

Ashton 2
Cathedral 2

Ruston 2

Somerton 2

Stockford 2
Stockton 10-Lite

Waterton 2
Williamsburg 4