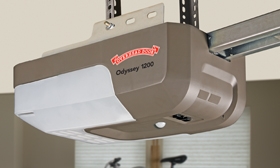 The Odyssey® 1200 screw drive garage door opener features a patented direct drive system. It has all the lifting force needed to raise sectional doors up to 14 ft. high or one-piece doors up to 8 ft. high.
DC Power
Our strongest 1 HPc* 140V motor delivers the power to lift almost any residential door.
Speed
Enjoy the convenience of a maximum opening speed of up to 10 inches per second.
Auto Seek Frequency Range
The opener listens for both the 315 or 390 Mhz frequency emitted by the remote or wireless keypad, allowing reliable operation even in areas with frequency interference.
DoorDetect™ Monitoring and Diagnostic Technology
Delivers the optimal amount of power needed to efficiently and smoothly open even the heaviest doors. Stops the door when abnormal operation is detected for additional safety.
Two-Bulb Lighting System with Motion Dection
Lighting system with two 100 Watt bulbs activates when motion is detected, delivering additional convenience and security.
CodeDodger® 2 Access Security System
The latest in CodeDodger® technology that selects a code from billions of combinations each time a remote or wireless keypad are used. Prevents piracy of the radio signal for the utmost in security.
Safe-T-Beam® System
When objects pass through the infrared beam, the door automatically stops closing, and then reverses. The system's self-diagnostic functions alert homeowners of misalignment or damage.
Direct Drive
Patented direct drive screw system provides a powerful and reliable performance.
Maintenance Free
Direct drive system means no gears, chains or belts to wear out. Also, no additional lubrication needed.
Automobile Convenience Features
Compatible with HomeLink® and Car2U® systems.

Odyssey® 1200 garage door opener includes the following accessories:
Three Button Remote
Operates up to 3 doors.
Wall Console
The large push buttons make for easy operation and convenient control of the opener light. When away for extended times, the Sure-Lock™ feature disables the remote's acess to the garage for security. Easy wall-mount installation.